Brief description of AKA Berkut 5:
Professional, computerized, high-sensitivity, multi-frequency metal detector with original, patented, no analogue technology of space-harmonic filtering (SFT), which allows to significantly improve the quality of the identification of objects.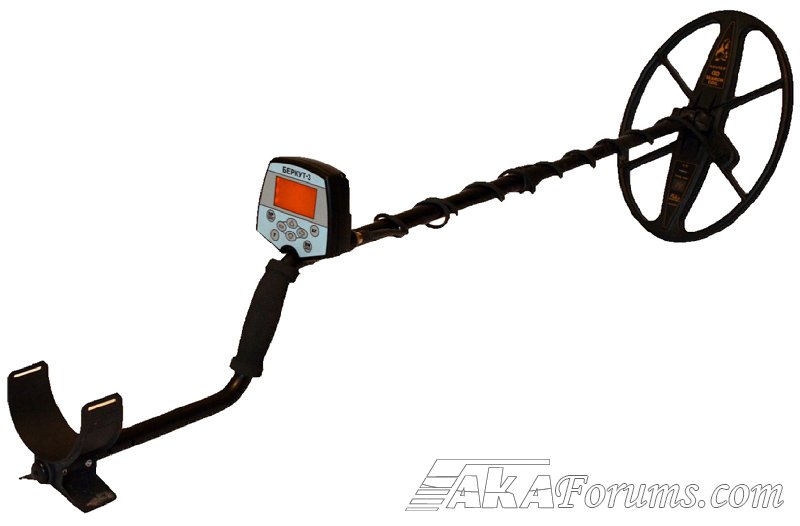 Specifications:
- Automatic compensator input allows to reach the sensitivity to 45cm for 25mm coin (with search coil 10 " DD/7kHz)
- Large high contrast display
- Technology for immediate visualization of the objects during a search in the form of spectral - graphic images of the LCD display (128x64)
- Sound scheme: polyphony with RT channel. RT channel could be switched off
- Automatic and Manual Ground Balance
- A system for automatic correction of ground balance with adjustable speed readjustment
- Dynamic and static modes of searching
- Analog mode provides immediate response to a target
- Unique algorithm discriminatory suppression and display "hot rocks"
- 8 course menu with instant access to all primary and secondary settings
- S- shaped ergonomic design
- Waterproof search coil
- Power supply - 4 batteries 1,5 V AA
- Time to work with one set of batteries - up to 20 hours, depending on modes and batteries used
- Weight with batteries - 1,15 kg
- An electronic unit, which allows transmission and processing of signals in the multi frequency range
- Frequencies could be switched without new ground balance procedure on 3F coils
- Firmware updates could be installed by users locally
- Wirelees audio transmitter/receive bundle (optional)
Additional search coils:
6" - 7kHz or 14 kHz
6"x10" - 7 kHz or 14 kHz or 19 kHz
9"x12" - 7 kHz or 14 kHz
9"x12" - 3F (3 kHz, 7 kHz, 14 kHz)
13" - 3 kHz or 7 kHz
13" - 3F (3 kHz, 7 kHz, 12 kHz)
15 "- 3 kHz, 7 kHz
6"/6"x10"/9"x12"/13"/15" with custom frequency (2,7 kHz....20 kHz)
The main original feature of this detector and all the other models of Aka is a "hodograph" identification of targets, which allows to define targets very easy and with an exact value. No other metal detector brand has such an identification.
To sum it all up, this metal detector with lots of settings to play would suite experienced detectorist